A Academia move-se por caminhos misteriosos e o "Somewhere" da Sofia Coppola ficou pelo caminho nas nomeações para os Óscares. É pena. É delicioso. Ei-la aqui abaixo a falar dele:
Sofia faz-se gente, saindo com jeito da sombra do pai, o grande Francis Ford. O realizador de "Apocalypse Now", três "Padrinhos", "One From the Heart" ou "Tetro" esteve no final do ano passado no Festival Internacional de Cinema de Marrakech, supostamente para dar uma Master Class, mas com a humildade própria dos mestres, preferiu uma conversa com a sua audiência. Excertos dessa conversa e de uma entrevista que se lhe seguiu estão aqui.
É claro que para Coppola, no ponto em que está da vida, é fácil dizer algumas das coisas que diz. Afinal de contas, a experiência é um posto, mas de tudo o que lá vem, há uma parte que me apetece destacar por senti-la na pele (perdoem-me a extensão da citação):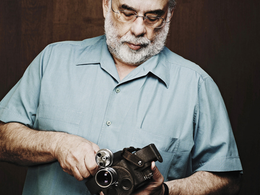 «You have to remember that it's only a few hundred years, if that much, that artists are working with money. Artists never got money. Artists had a patron, either the leader of the state or the duke of Weimar or somewhere, or the church, the pope. Or they had another job. I have another job. I make films. No one tells me what to do. But I make the money in the wine industry. You work another job and get up at five in the morning and write your script.
This idea of Metallica or some rock n' roll singer being rich, that's not necessarily going to happen anymore. Because, as we enter into a new age, maybe art will be free. Maybe the students are right. They should be able to download music and movies. I'm going to be shot for saying this. But who said art has to cost money? And therefore, who says artists have to make money?
In the old days, 200 years ago, if you were a composer, the only way you could make money was to travel with the orchestra and be the conductor, because then you'd be paid as a musician. There was no recording. There were no record royalties. So I would say, "Try to disconnect the idea of cinema with the idea of making a living and money." Because there are ways around it.»